Why straw bedding?
It's natural – the bedding is made of straw acquired from local farms, so it does not contain any additives and adhesives.
Excellent absorption – thanks to its structure, the bedding absorbs 400% of its volume. In addition, it neutralizes odours.
Low dustiness – during the production, our bedding is subject to the dust collection process, making it virtually dust-free.
Hygienic – small quantities of straw bedding can be disposed of in the toilet.
Optimal shape – the balance between granulate and litter is adapted to the needs of small pets. The litter has finer structure and is gentler of your pet's paws.
Safety – no bacteria, fungi and mould. The bedding is hypo-allergenic.
Fewer replacements – the bedding does not clump. Quickly absorbs fluids, increasing its volume, after which it falls apart. You have to exchange only the soiled part, not the whole bedding.
Biodegradability – soiled bedding can be successfully composted or used as a natural fertilizer. In contrast to wood granulate, it does not acidify the soil.
Purpose – our beddings are ideal for all domestic animals, such as cats, rabbits, chinchillas, birds, guinea pigs, hamsters, ferrets, turtles etc.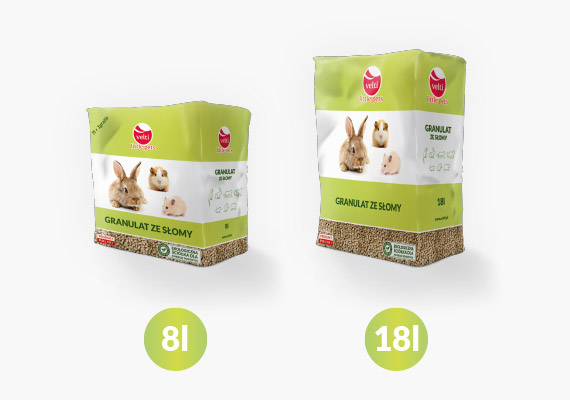 STRAW GRANULATE
It has the shape of rollers with a diameter of 8 mm and a length of 0.5-2 cm. Recommended for small pets: rabbits, chinchillas, guinea pigs, hamsters etc.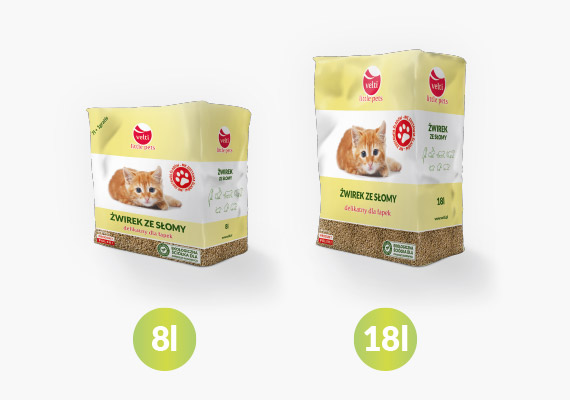 STRAW LITTER
It has the form of crashed granules and is lighter than the granulate. It is more delicate, hence recommended for cats and small house pets by experienced breeders.